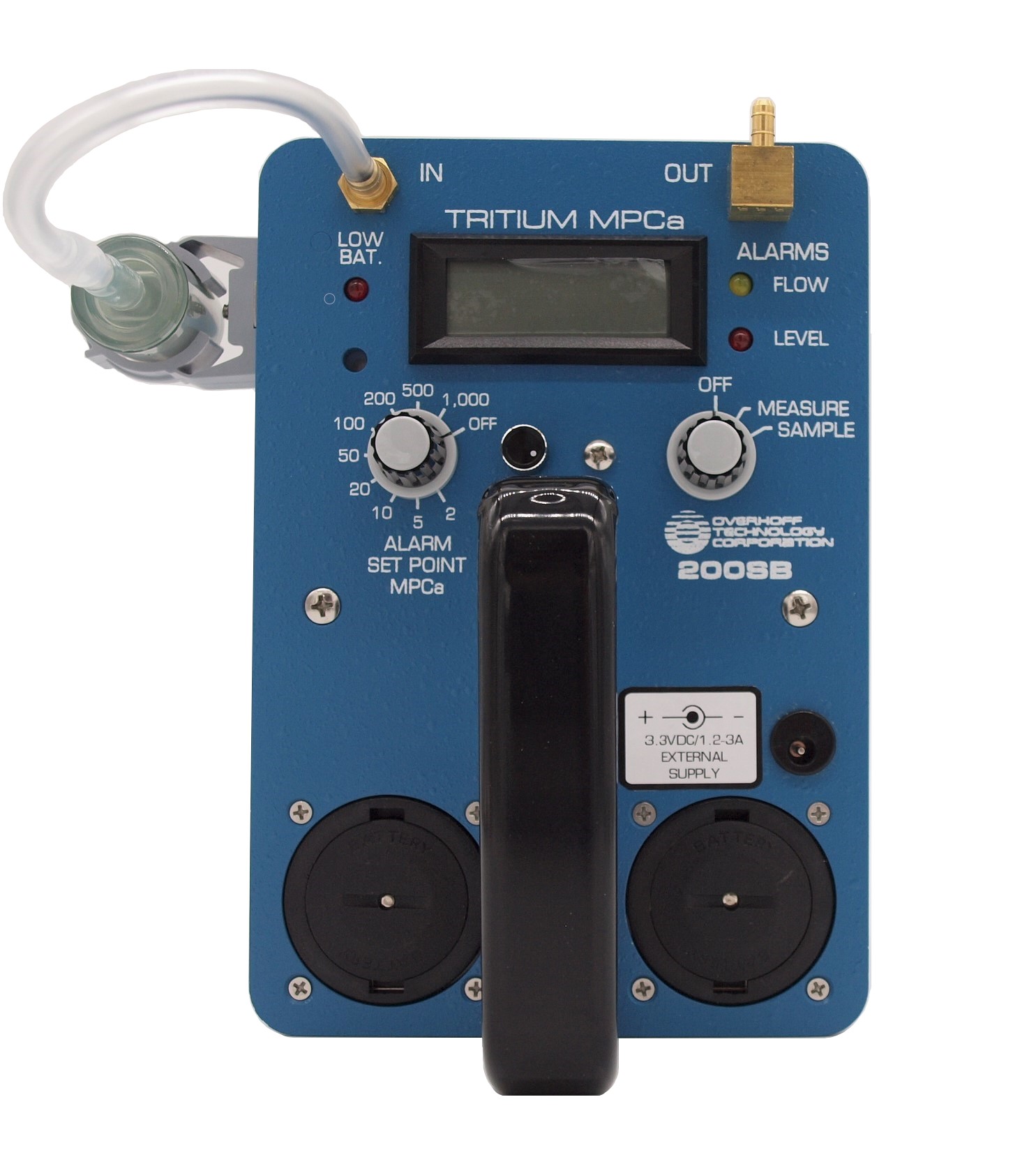 The 200SB portable tritium survey monitor is a low cost light, weight survey meter. The front panel features only three controls: an ON - OFF - SAMPLE switch and the switch for setting the alarm level. Zero adjustment is unnecessary. The 200SB shows no zero drift over a temperature range of 0° C to +50° C. A large pump and fast electronics are combined to yield a relatively fast response.
This wide-range instrument features measurement sensitivities of approximately 10μCi/m3 (1 MPCA). This model has a 4-1/2 digit LCD display for readings from 0 to 19,999 MPCA.
The Model 200SB requires no zero adjustment. It is ready for use by selecting the desired alarm level and activating the instrument power. The initial power surge transient will disappear in approximately 60 seconds, and the readings will normalize.
The use of twin, side by side, or coaxial ionization chambers provides gamma compensation in moderate background gamma radiation fields. The use of a large pump, 3 liters per minute, with microprocessor electronics, yields an overall measurement time constant of under five seconds.
An HTO discriminating version is available. By addition of an external desiccant column, this survey instrument will specifically measure HTO in the presence of HT, and other radioactive gases.
MODEL 200SB Tritium Monitor Specifications
Measurement Range 10 – 199,999 μCi/m3, basic sensitivity of the order of 10 μCi/m3
Display 0 – 19,999 digits, LCD panel meter
Gamma Compensation two chambers in a side by side arrangement
Response Rate 5 seconds to reach 90 % of final reading
Noise Level +10 μCi/m3, 1 S.D. (3 second electronic time constant)
Zero Stability after 1 minutes (or less) warm up, the zero drift to less than 10 μCi/m3
Alarm (Acoustic) 1. nine position stepped attenuator set point for signal of 20 – 10,000 μCi/m3, steady tone 2. low flow produces a steady tone
Alarm (Visual) signal level: red LED
low flow: yellow LED
low battery: red LED
Dust Filter in line disposable cartridge Pall No. 12082
Sampling System 2 hose barb ports are located on the front panel
Ionization effective volume: 200 cm3
Chamber Volume: port to port volume: 220 cm3
Pump Special high volume internal pump for a flow rate from 2-3 LPM
Power two "D" size batteries alkaline, carbon-zinc or NiCd,
Environmental 0 ° C to +50° C, 0 - 98 % RH
Case light weight aluminum
Size and Weight T 7.6" L, 5.2" W, 4.4" H excluding handle, 5 lbs (2.3 kg)
Accessories sniffer hose
Optional Equipment transit case, jack for external power supply
A special version of the basic 200SB instrument with six hose connections is available for specific HTO measurement in the presence of HT or other radioactive gases as well as external and internal gamma fields.