DSM-501 MicroR Meter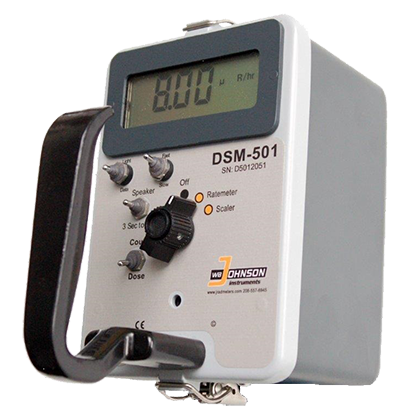 Digital Display, Internal Probe, Scaler Function, Near Tissue Equivalent
Features Internal Plastic Scintillation Probe
The DSM-501 is a digital, near tissue equivalent microR meter. It has a flatter response than a sodium iodide unit, similar to a micro rem meter. The auto-ranging DSM-501 survey meter features a large, four digit backlit, LCD. The meter includes an internal 1 inch x 1 inch plastic scintillation detector. The detector can measure gamma at the microR level as well as detect some betas. This newer design of plastic scintillation provides more accurate dose measurements than meters utilizing the traditional sodium iodide detectors. The DSM-501 is equipped with over-range alarms, regular alarms and diagnostics. An optional RS-232 data output is available on request.
The DSM-501 Survey Meter is is recommended for nuclear power plant, health physics, and medical applications, or whenever dose measurement at the microR level is required. This microR survey meter is ideal for NORM measurement. Other applications include oil refineries and scrap metal facilities. External plastic and NaI probes are available as well, with the DSM-500.
Specifications
Input Sensitivity: 1 micro R
Display LCD: four digit x 0.75" Tall (19 mm) LCD W/LED Back light
LCD Refresh Rate: 0.8- 3.0 seconds in 0.2 second increments, adjustable
Display Back light: Push button on for 30 seconds, auto off
Dose Ranges: 1.0 uR/hr - 10 mR/hr (Sieverts available)
CPS/CPM Ranges: 0-9999 cps, 0-999.9 kcpm
Probe Linearization: Internal adjustment for calibration constant and dead time
Count Time: Ranges 10-2550 seconds in 10 second increments
Alarms: 5-95 % of range
Diagnostics: audible and visual alarms indicating low battery and over-range
Range Adjustment: Auto-ranging on all scales
Electrical Non-Linearity: < 5%
Response Time: Adjustable: Fast 10-250 seconds, Slow 10-250 seconds, adjustable Drift < 5%
Environmental: -20⁰F (-28⁰C) to 140⁰F (60⁰C), 5-95% RH IPX4 Housing
High Voltage: Adjustable 300-1500 VDC, Regulation ±1%
Battery: six AA Alkaline, Nominal 100 hours of operation
Circuitry: Digital Microprocessor Controlled
Dimensions: 5.5" (14cm) H X 4" (10cm) W X 7" (18cm) L
Weight: 2.5 lbs (1.1 kg) with Batteries
Construction: Heavy Duty Cast Aluminum & Stainless Steel
Detector: Internal tissue equivalent plastic scintillator, 1"x1"
---